ELECTRONIC AIR CLEANING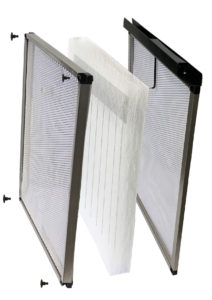 The 1' electronic air cleaner we offer uses patented technology to trap airborne contaminants like dust (including dust mite feces), dander and all types of pollen. It can effectively trap pollutants as small as .001 microns in size. It can trap things like bacteria, viruses, VOC's, smoke particles of all kinds, and most heavy metal particles, including those created through radon decay processes (RDP).
Key to energy savings and protecting expensive HVAC equipment is keeping resistance to airflow as low as possible. This is achieved through a combination of superior filtration materials coupled with unique patented technology. It also only has about 1/3rd the rated initial resistance to air flow of most high- performance pleated filters.
The one-piece design of this electronic air cleaner makes pad changes easier. You just open the filter, remove and discard the old pad and drop in a new one. The unique corner locking system replaces the old-style latch and hinge system. This makes changing the pad much easier because now there is nothing to bind or break.
On average most people should achieve payback in about 2-3 years. This is based on replacing the pads appropriately every 2-4 months, depending on the household environment it is working in. After that period ends, the better quality of air costs about the same as it would using normal store-bought filters.
The other unique feature of this electronic air cleaner is that it reduces the amount of any free-floating radon decay particles, (RDP). RDP is a by-product of radon gas, that can cause serious health risks. It is found naturally in the environment. When it accumulates in an enclosed or poorly ventilated space, it can be dangerous to humans. It can be inhaled into the lungs, where it can remain and break down even further.
Almost 1/3rd of all lung cancer deaths in the US and Canada are attributed to radon RDP exposure It is the 2nd leading cause of lung cancer.
This electronic air cleaner is capable of effectively reducing free floating RDP. Just remember that only a radon expert, (which we are not) can determine what the optimal solution is for radon mitigation is in any unique environment. Regardless of which solution is undertaken, it really makes sense to have us install an electronic air cleaner as part of an enhanced air quality solution to your home.